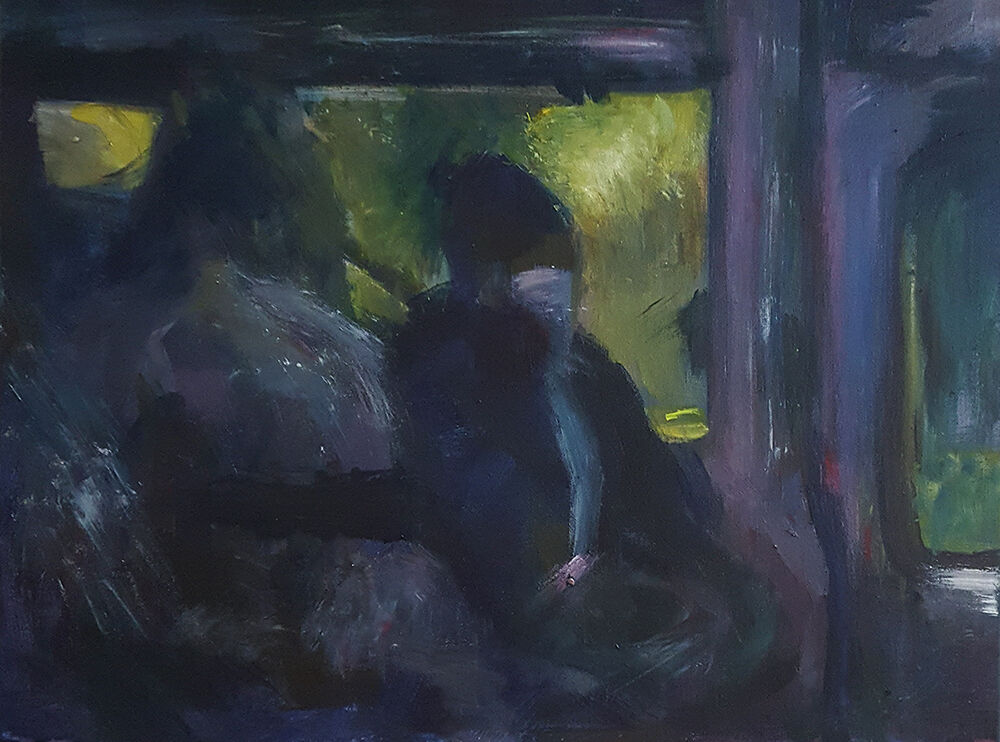 20x24" acrylic on canvas

In October 2020, I fractured my sacrum - the part of the pelvis which connects to the spine. It was incredibly painful, and left me unable to sit up straight for more than a few minutes. As such, my care team arranged for me to be brought to and from the hospital by stretcher transport. I was struck by how completely my perspective on the world was changed by this experience; lying down, looking up at everything from a prone angle.

The wait for the ambulance to arrive was long, and due to pharmacy delays, I often found myself coming home after dark. Sometimes another patient would be in the same ambulance, strapped into the wheelchair seat, and we'd exchange weary smiles as we rattled down the motorway.


This painting was based on one such trip at the beginning of December. I had been waiting for three and a half hours for transport to arrive, due to an admin error. I was exhausted, frustrated, and hungry, and strange shapes were dancing at the edges of my vision by the time I was strapped into the stretcher. I could feel phantom hands slapping at my face, grabbing my legs; it seems to be some strange side effect of the combination of morphine and chemo that I get these odd half-hallucinations.

Tinny Christmas music on the radio, we struck out into London under a black sky. Flashes of passing streetlights illuminated my companion, an older lady, who was wrapped in a blanket, masked, and clutching a cardboard sick-bowl. She looked as worn out as I felt.

It was a strange, surreal sort of experience, as though I'd stepped into a scene from a movie. I managed to snap a few blurry, shadowy photos to capture the moment, and worked on this painting a day or two later, once I had recovered somewhat from the journey.

Brushes didn't really work for this image - I wanted to capture the smudgy, uncertain feeling, and they gave too precise a mark. In the end, I applied the paint with a crumpled paper towel instead.